When  Yvonne  Fuller  moved  from Kent to  Cornwall  in  1994,  she  fulfilled  a  life long  ambition.  Since the mid 1950s she had stayed many times as a schoolgirl in the fishing village of Polperro, where her cousins ran a hotel.   A  much loved aunt had married into a local fishing family and the village was full of artists.  Painting had always been her favourite subject and meeting the artists, in particular the well known painter Jack Merriott, and seeing their original work, made her determined to study at art school.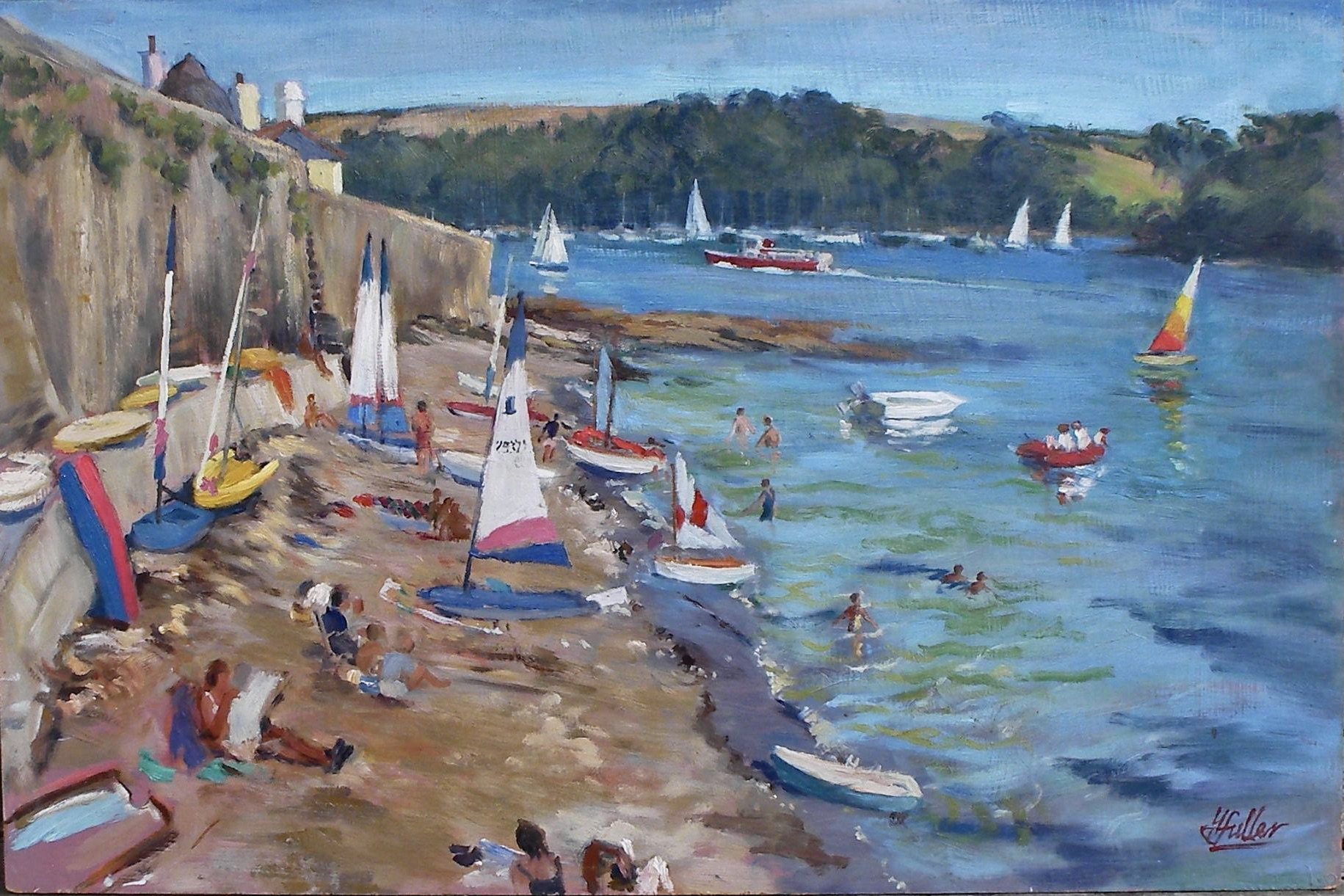 Tavern Beach St Mawes in high summer
Yvonne Fuller studied painting at Bromley College of Art and Goldsmiths' College. University of London, when life drawing and perspective were still taught with some rigour and where her tutors included Frank Auerbach and Bernard Dunstan.
In a varied career, she painted for several years as an unofficial resident artist in Dulwich Picture Gallery, where some of her water colours of gallery life were purchased for the Permanent Collection.  This led to a term as Official Artist to the British Medical Association, documenting events for the British Medical Journal, and more recently as Artist to Cornwall County Council, recording the historic outbuildings at Mount Edgcumbe prior to their refurbishment as a visitor attraction.  She has also documented Trewithen, the country house and estate near Truro.
Other endeavours include designing scenery for the Opera School of the Royal College of Music and for Handel productions of Handel's "Amadigi" and "Il Pastor Fido" for the Unicorn Opera, Abingdon as well as making props for the 1968 movie "The Charge of the Light Brigade" and for a number of plays.  She did all the drawings for the St Mawes limited edition of Monopoly.
She has exhibited, amongst others, in the Phoenix Galleries in Lavenham and Highgate, at Sotheby's, in Dulwich College and in Tregony Gallery. When Hotel Tresanton in St Mawes changed hands she documented the refurbishment of the hotel, designed the logo and in early 2017 was commissioned to paint a visualisation of the proposed Beach Club Garden.
Living now in the seaside village of St Mawes, she paints the beach scenes, landscapes, villages and people of the unspoilt Roseland Peninsula.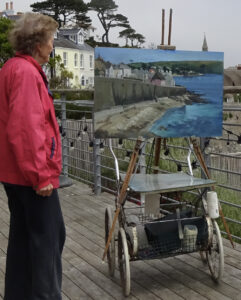 This year she is giving away her paintings in aid of the British Red Cross and she has already been working on concerts with Ukrainian families living in Cornwall.
Already over £21,000 has been raised mostly for the Red Cross, but there are plenty more paintings available.   Many of these paintings are listed under the heading
Buy + Donate Red Cross
This is available unframed for £950  to support  the Roseland Centre
1044  Incoming tide, Tavern Beach and Boathouse
Oil on canvas board 10″ x 14″   unframed for £475 Donation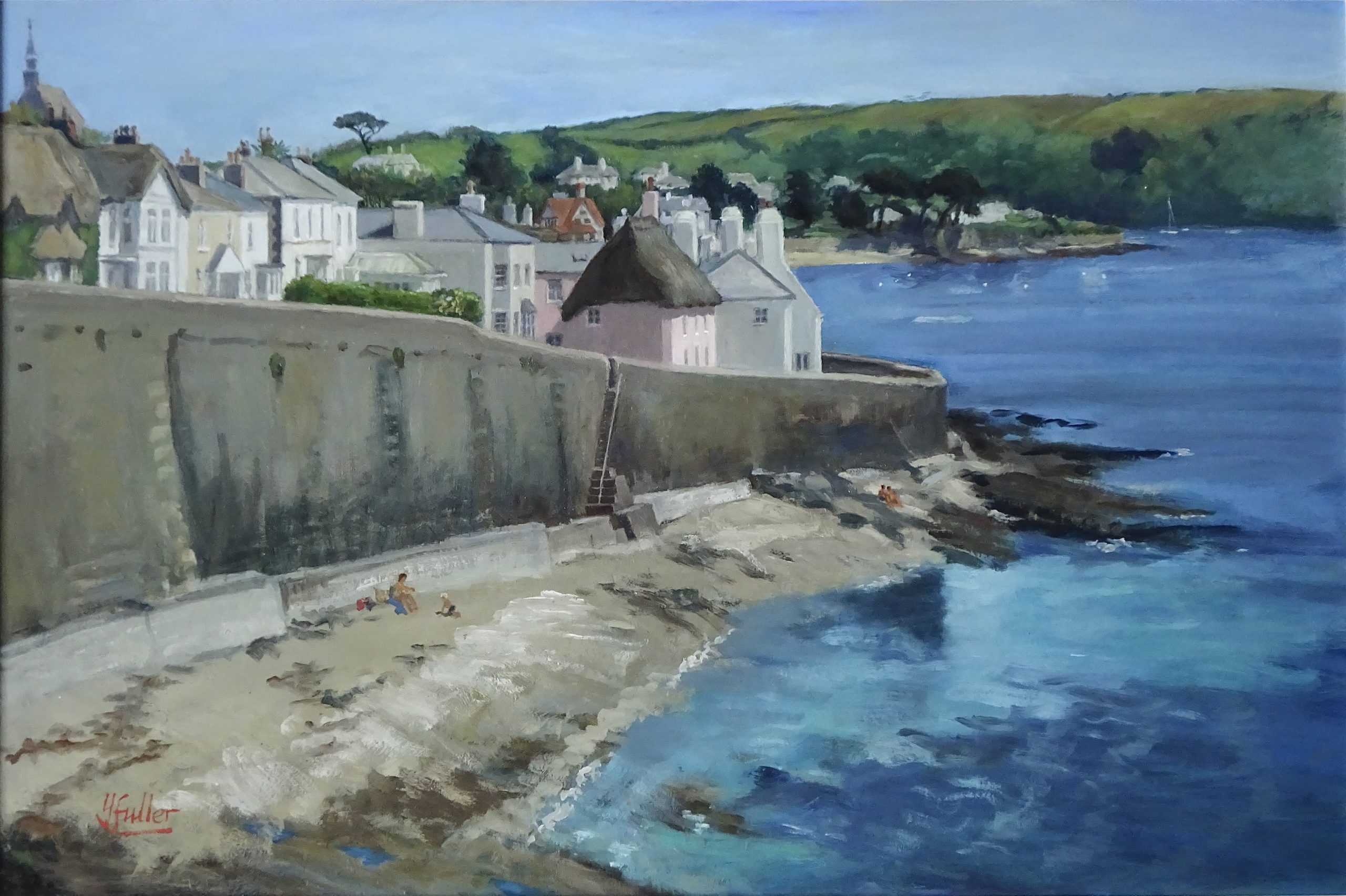 This large oil painting already raised £4000  to support Buy + Donate Red Cross and Donations have now reached over £19,600.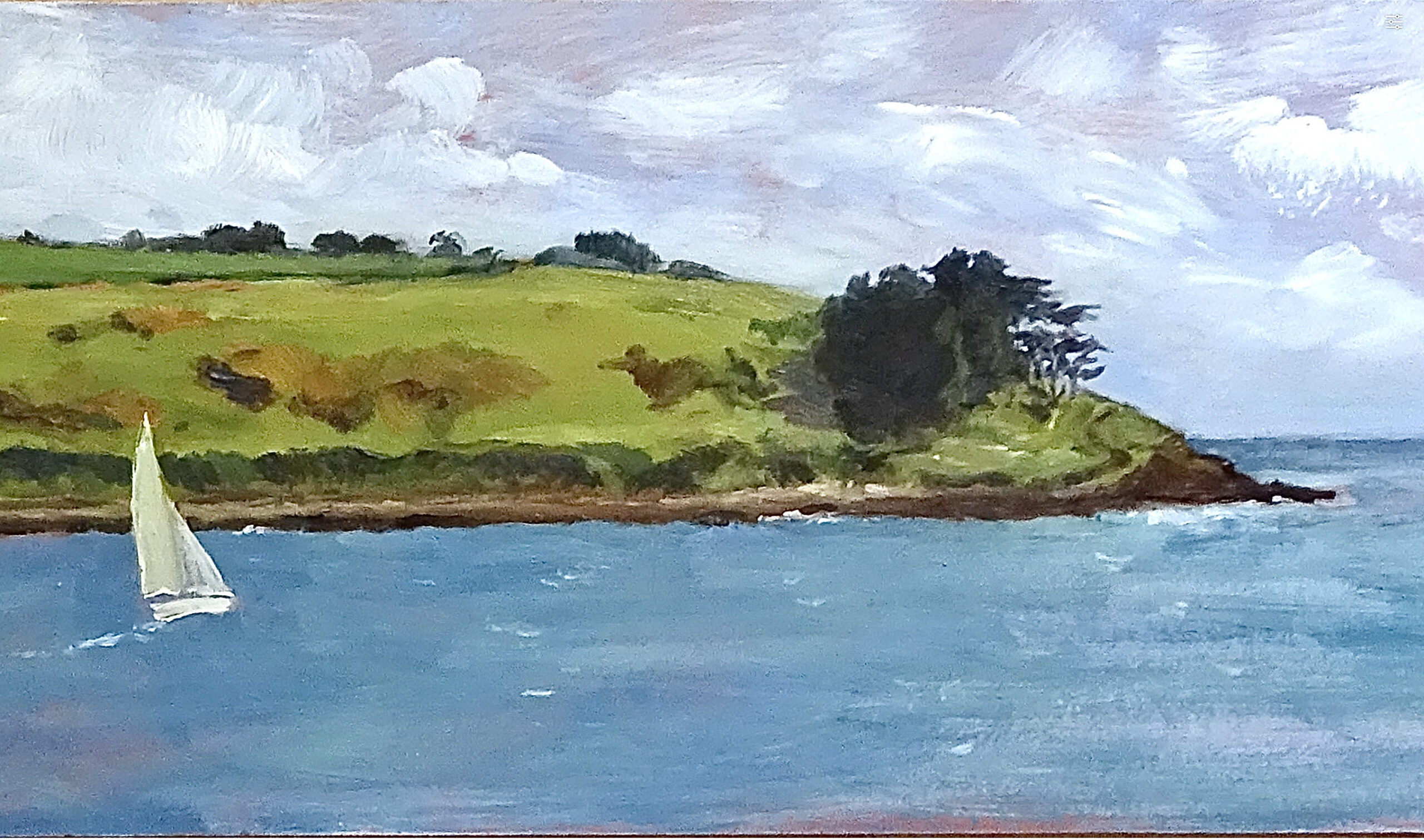 In 2006, after experiencing weakening eyesight due to cataracts, she had successful Tetraflex lens replacements, which enabled her again to paint without glasses.  Before the present year she sold several of her larger paintings to support eyesight saving charities in third world countries.





/

She occasionally has paintings for sale in the New Gallery Portscatho (01872 580445)   but more often sells free of commission directly from home,  email:   yfullerpaintings@me.com
……………………….
In St Mawes, for  celebrations of The Queen's Golden Jubilee in 2002  and Diamond Jubilee  in 2012, she designed and produced "The Children's Coronation".  These were full scale re-enactments of  Her Majesty's 1953 Coronation, with children from St Mawes School.  On 2nd June 2013, for the 60th anniversary of the Coronation,  she directed an even larger re-enactment in Truro Cathedral with children from many schools in Cornwall taking part.  Shown here are photographs from 2002 and 2013.  In 2022, to celebrate The Queen's Platinum Jubilee a Grand Parish Jubilee Procession was held which led into a celebratory Service in which "Taking the Oath" and "The Investiture and Crowning" from the Coronation were re-enacted once again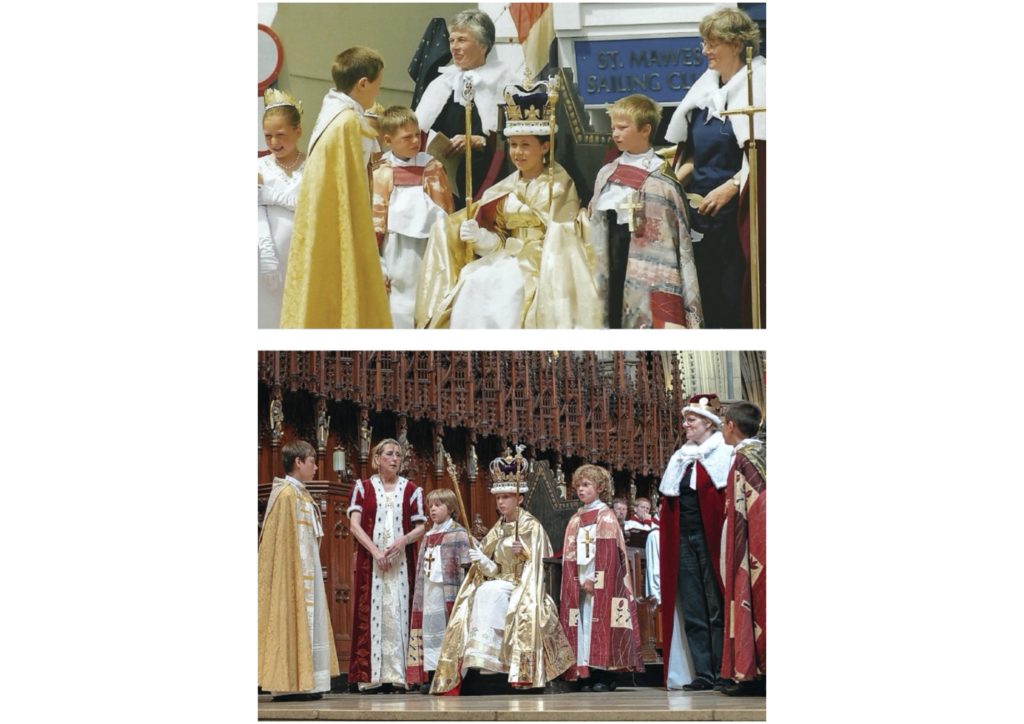 2002  and  2013

……………………
The paintings in this website are examples of work, many of which have already been sold.  Prices range from £170 for a small, unframed water colour to about £7,000 for a 60 x 90 cm or  2′ x 3′  framed oil painting.  Unframed, hand painted prints are available from £25.
This small book,  'St Mawes and the Roseland',  is available at £3.50  a copy including postage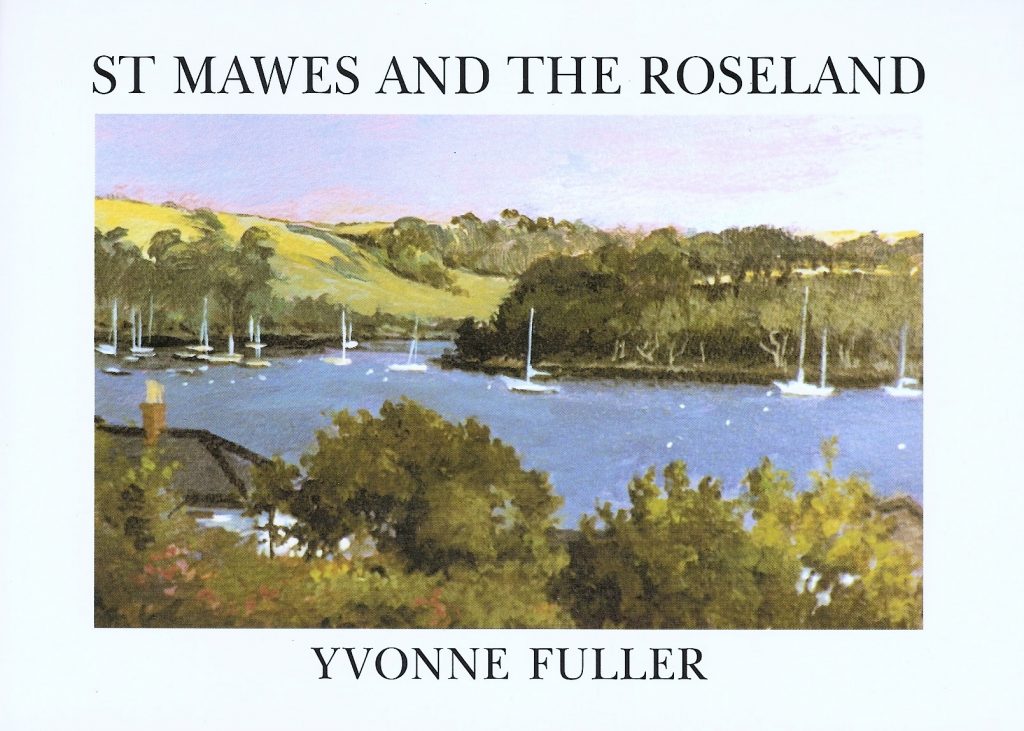 For further information on currently available paintings and details about purchasing copies of the book "St Mawes and the Roseland"  please look under the heading              'Buy + Donate Red Cross '
All images and text on this site are copyright
© Y M M Fuller 2020
contact email:
yfullerpaintings@me.com
#yvonnefullerpaintings